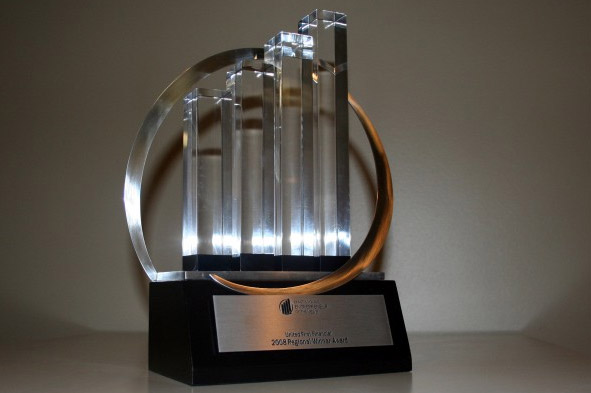 David Nicholson, Partner and Pat d'Entremont, Partner of Nicom IT Solutions Inc. are finalists for the Ernst & Young Entrepeneur Of The Year 2013 Awards Atlantic for Information Technology.
David Nicholson
David formed Nicom Ltd. in 1982 and led and grew the company to a small business  of approximately twelve employees. In 2006, Nicom Ltd. merged with DDA Solutions to form Nicom IT Solutions Inc. (Nicom). David's strength is in long-term strategic planning. He takes stewardship of the Nicom Strategic Plan, which he continuously updates and presents to the company for feedback and refinement on an ongoing basis. From this comes a series of realistic but "stretch" goals to aspire to. Dave is the go-to person for employees to turn to when they are faced with problems. Dave's expertise in management consulting, in particular in the seaport sector, is being utilized to lead consulting and research and development (R&D) efforts in growing this vertical.
David has always prided himself on his high level of integrity and empathy. He is consultative by nature; and, this characteristic allows him to identify strengths in his staff and "assign them to task" in the areas where they as individuals can influence the most change. He collaborates and guides his staff; therefore, instilling a level of confidence and motivation in them "run with it". His ability to influence these characteristics into others show, to this day, in how Nicom's staff treat their clients, projects, and each other.
Pat d'Entremont
Pat formed DDA Solutions in 1986 with a partner which he bought out. ,He ran it alone in the final years before merging with Nicom Ltd. to form Nicom IT Solutions Inc.. Pat engineered the merger and changed his day-to-day role from Managing Director to Business Development. To this end, he continuously works at building and promoting the Nicom brand around its expertise, marketable assets and key points of differentiation. He has also increased his personal profile in the business community by volunteering for committees and boards such as Canadian Manufacturers & Exporters (Nova Scotia division) (CME); and ,by creating a monthly column for the Chronical Herald Halifax newspaper on Technology, which ran for 6 years.
Pat's attitude is "can do". If he sees an opportunity, he goes for it without hesitation. He is not scared to voice his opinion if he sees undue negativity or lack of confidence in the workplace. He continuously identifies, recommends and executes suggested tactics to overcome such challenges. He is a team player and works with the expertise that surrounds him to identify and execute the solutions as efficiently as possible.
Learn more about Pat and David here. For additional information on the Ernst & Young Entrepreneur Of The Year® 2013 Awards finalists in Atlantic, click here.
We are a full-service IT professional services firm that prides itself in the long-term relationships that we have developed with our clients and partners.